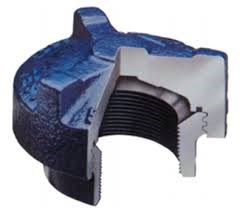 FIGURE 207 BLUE CAP, GRAY SUB
Group: OILFIELD HAMMER UNIONS
Figure 207. 2000-psi NSCWP unions are available in 3, 4 and 6-inch.
(NSCWP - Non-Shock Cold Working Pressure)

These unions are fitted with a nitrile o-ring in a blanking cap for effective closure. With the cap removed, the female sub will make up to hose, pipe or tubing fitted with a Figure 200 or 206 male sub and nut. Recommended for air, water, oil or gas service. Available in butt-weld Schedule 40 and 80.