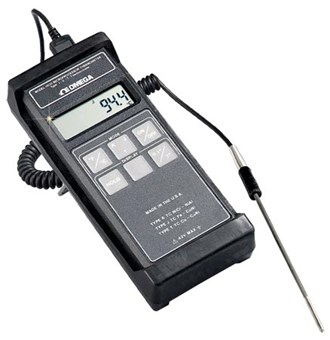 High Accuracy Digital Thermometers - HH-20A Series
Group: OMEGA
Each Unit Comes With a Certificate Stating NIST-Traceability (No Points)

Single and Dual Input Models with Display Hold

Dual Input Models Feature Trend, Min/Max and Differential Measurements

HH-21A and HH-23A Accept J, K and T Inputs

HH-22A Accepts J and K Inputs

0.1 Resolution in °F and °C Over Full Range

High 0.1% Reading Accuracy
The HH-20A series microprocessor-based handheld thermometers offer wide-ranging temperature readings and feature state-of-the-art innovations. The easy-to-read custom 5-digit LCD readout with trend display and self-diagnostics are all standard. The case is drop/splash and dust-proof, and has a built-in tilt stand/handle for bench use or hands-free field measurements.
The HH-21A is a single input unit that accepts J, K and T thermocouple types. From the front panel, the user can select the thermocouple type, display units (°C or °F), and display resolution (0.1° or 1°). The HH-21A also has a display hold function. As with all HH-20A series units, the HH-21A features exceptionally high accuracy, 0.1% of reading plus 1°F.
The HH-22A and HH-23A accept dual inputs. The HH-22A accepts either J or K thermocouples, while the HH-23A works with J, K or T types. Both models can display T1 (input 1), T2 (input 2), T1-T2 (difference), or scan between T1, T2 and T1-T2. Standard features for both the HH-22A and HH-23A include display hold, min and max storage, and trend indication. The min and max functions record minimum and maximum values for T1, T2 and T1-T2. Trend indication shows if the displayed input is increasing, decreasing or stable.
When you turn on an HH-20A, it remembers what you were doing; the thermocouple type, resolution, and temperature units are stored in non-volatile memory so you don't have to reprogram every time you start up
SPECIFICATIONS
Display:5-digit LCD; custom indicators for thermocouple type°C/°F units, hold and low battery; HH-22A and HH-23A have additional indicators for input (T1, T2, T1-T2, scan), up/down trend arrows and min/max data storage
Keypad:Momentary switches with tactile feedback; on/off, thermocouple type, units, resolution, hold; HH-22A and HH-23A have additional keys for record min/max, view min/max, stop/clear record input type (T1, T2, T1-T2, scan)
Configuration Retention:Selected readout, input type, units and resolution retained on power-off
Diagnostics:Low battery, open thermocouple, invalid keypad entry, out of range, internal hardware fault
Accuracy:0.1% rdg + 0.6°C (1°F)
Repeatability:0.2°C for 1 week at constant temperature
Resolution:0.1° throughout entire range
Temperature Coefficient:(0.02% rdg + 0.1°C) below 64°F (18°C) and over 82°F (28°C); included in accuracy, between 18 and 28°C (64 and 82°F)
Ambient Temperature:0 to 50°C (32 to 122°F), 0 to 90% RH
Reading Rate:1 per second
Max Common Mode Voltage:42 V peak to earth ground
Power:9 Vdc battery, alkaline (included)
Battery Life:100 h, typical, alkaline battery
Dimensions:178 H x 74 W x 28 mm D (7.0 x 2.9 x 1.1")
Weight:284 g (10 oz)
Accessories Included:9 Vdc alkaline battery, beaded wire Type K probe (for each input), integral tilt stand/ handle, wrist strap, rubber holster, NIST certificate, and operator's manual