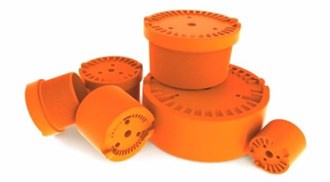 Casingg: 4-1/2"5-1/2",7" and 9-5/8" all API thread types.Max XTM Non - Liftable
features and benefits.
. API 5CT Annex 19 edition compliant
. advanced plastic formulationdesigned for durability and impact resistance
. Ribs on the top and bottom of the box diaphragm designed to abrorb and disperse the energy from impacts.
. Diaphragm and pads desperse potential impact.
. Stiffeners on the bottom of the pins and ribs on the top designed to maintain the stability of the diaphragm while also absorbing and dispersing the energy from impact
. Spanner holes allow the operator to safely install and remove 9 sizes of boxes or pins using liited installation tools.
. Auxiliary installation/removal feature is designed tobe used with commonly found tools on a rig site
. Designed for API connections only
. Made from HDPE resins.
. 100% recyclable.
Casing: 4-1/2", 5-1/2", 7" and 9-5/8" .